"Offer only for special customers" "Do not buy here, we sell very expensive". Psychology of reverse marketing, the trap for unsuspecting buyers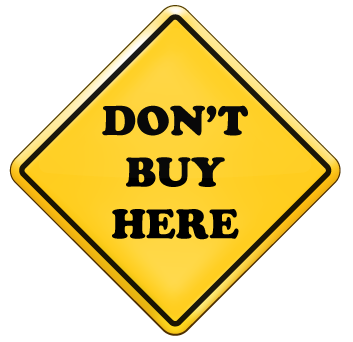 Source
---
I can not explain why you are reading this publication if the title says: "Do not read this publication" Lol It's a joke! On this occasion, I wanted to know if Inverse Marketing works in Weku just as it works in marketing.
On several occasions I have seen in some commercial establishments this type of marketing where the customer is told: "Do not buy in this place" "Do not go ahead", "Do not read this notice" "This offer is not for you" and call the Attention to know the why of this type of ads.
Surely you have also read something similar and you have asked this same question, because it is strange and curious, because we are usually used to as potential customers the company or business kindly invite us to move forward, offer us your products For sale, what do you try by other more traditional techniques to sell your products and not like this.
It turns out that the psychology of marketing has realized that appealing to our curiosity and our ego can induce us to buy.
When you see an ad where you say: "Do not buy here" we are woken up by the curiosity bug and we go to see what they sell, then when we are inside they appeal to our ego with ads like: "Offer only for special customers" Immediately we want to make them believe that we are those special customers they are looking for, and as good buyers we succumb to their strategy.
The concept of reverse marketing is based on the idea that the customer is the one who approaches the company and not the company who approaches the client to sell a product.
With this type of ads, you want to give the impression of what the business or establishment is not really interested in selling and that it is the client who is attracted by himself to buy without any pressure when in reality it is not like that because the business is interested in selling the product. The client feels that he is buying what he wants to buy, that nobody is pressing or suggesting him to buy it.
Every day more ways of suggesting ourselves to buy are sought; it's about selling not to the person but to the mind. The psychology of marketing studies thoroughly how to induce us to buy and reverse marketing is a good way to do it. We search the internet for online sales, on social networks, in specialized magazines, products to buy. Companies are no longer looking for us, but we are looking for them to buy them and this is a typical example of how reverse marketing psychology works.
---
Manufacturers make surveys to know what product we want to buy, how we want it, how we want the product to be, what color we prefer it, how much we would be willing to pay for it.
In this way, they have a knowledge of the preferences of the client and there is no need to convince him to buy but the same customer is the one who looks for the product to buy it when it goes on sale. So then that we have become "client-sellers" what they sell to themselves.
We are consumers by nature, every day we consume water, oxygen, food, clothing, footwear, cosmetics, etc. For this reason, also the psychology of reverse marketing works very well in us. As a test I wanted to publish this post by placing a title in reverse marketing style, to see if it also works in Weku.
This post does not deserve a Comment or a Vote!...